Monkey Island -Field Trip- on May 21st(Sun)
On Sunday, we had our first school-wide event of the year. With so many new friends and parents to meet, we needed a good place to go. A place that felt open and casual, but friendly. A place for exploring, with plenty of time to relax and talk to our CGK friends. A place to climb mountains and dip our feet in chilly waters to cool down after a morning full of excursions…. So, naturally, we headed to Sarushima (Monkey Island)!
The weather was beautiful, although perhaps a little on the warm side for most of us. Everyone enjoyed the short, scenic fairy ride on the way to the beach, where Barbeque grills, beach umbrellas, and friends and teachers were waiting. Everone spent the first part of the morning socializing, making acquaintances with other families, digging for seashells, and romping around in the surprisingly clear water.
Shortly after, everyone enjoyed some delicious barbeque! We chatted and reclined as the scent of grilled meat and vegetables wafted all around us.
Once everyone had their fill, it was time for a trek around the island. Sarushima is the only natural island in all of Tokyo Bay. It has a prestigious military history, particularly after its development as a navy yard during the Meiji era. Now the only signs of the island's intriguing past is the left-behind fortress and tunnels that spot the island's upper grounds. The kids, naturally, had a blast. Especially in the tunnels! We started out slowly, but soon all of our most energetic friends were organizing their own races through the tunnels and at Island's summit. We giggled our way up long, wooden staircases, looking at the remnants of concrete structures. The view from the top was beautiful, especially around the old fortress!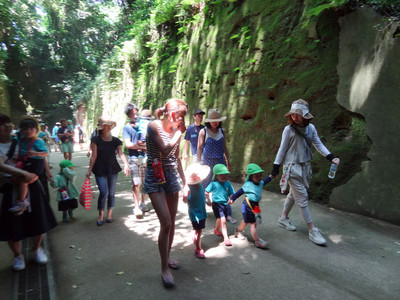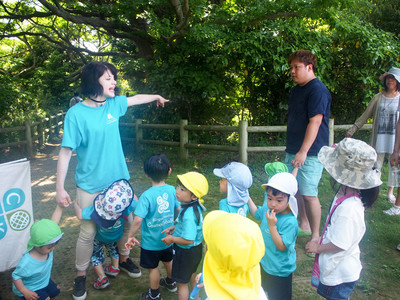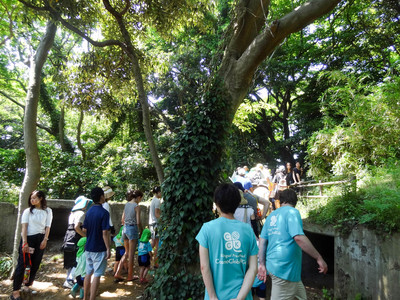 Once we were good and tired, we all headed down to enjoy some more food and casual banter. Some of us even took some ice baths to cool down in the hot sun!
It was a wonderful trip, and all of us were ecstatic to see so many warm, smiling faces. We are looking forward to our next field trip!


Hannah