Winter School
We have spring school, summer school, and winter school.
CGK Afterschool is pleased to announce that we will be holding the 2023 CGK Winter School.
We will provide a fun learning environment for children and help them to spend their long vacation in a meaningful way.
Our lesson will be focusing on the children's Self-expression, Acute Cognitive Ability and a Spirit of Inquiry which are the core of our afterschool program.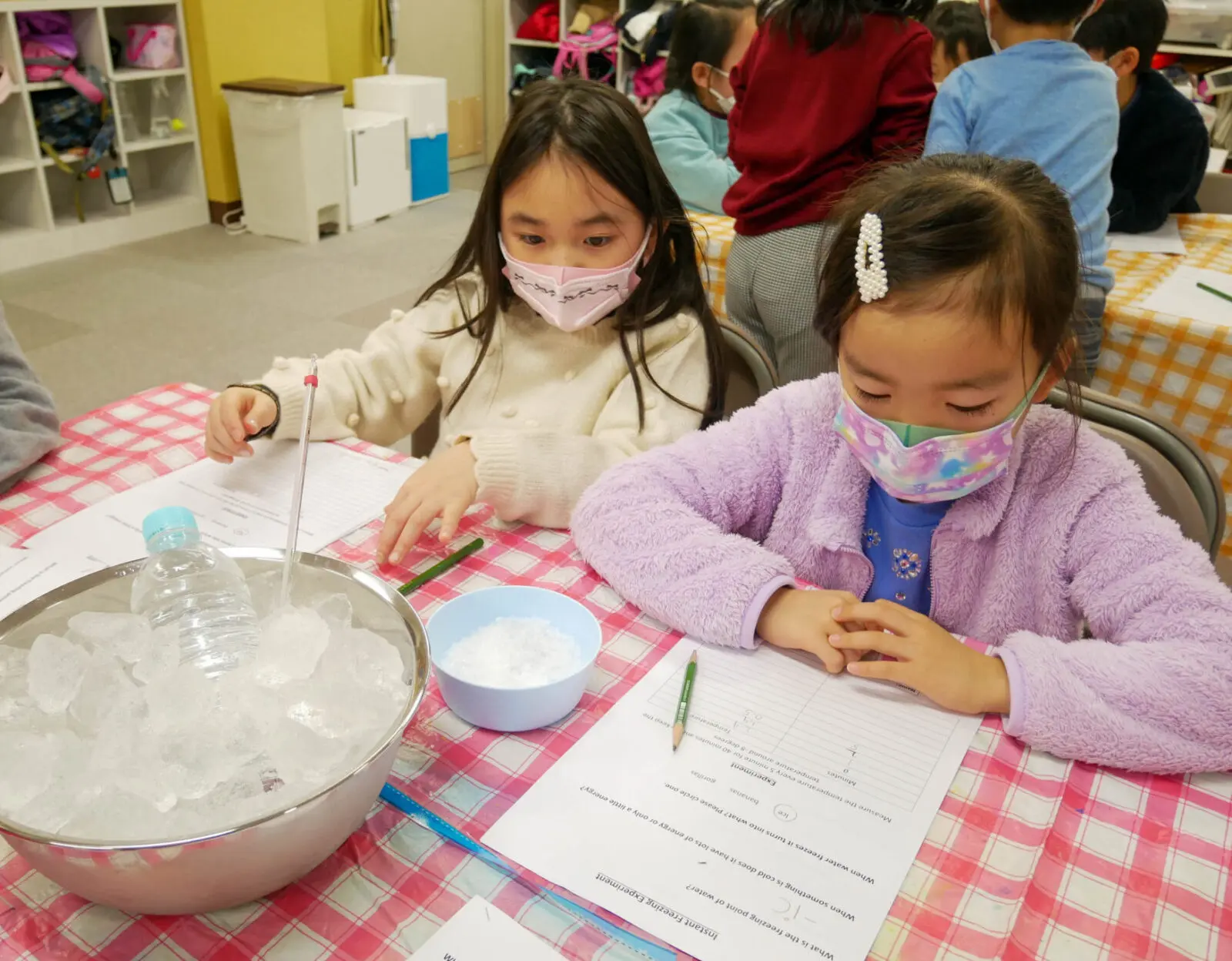 Details
Dates
January 4 - 6, 2023 (*Total 3 days)
*Please apply for as many days as you like.
*Afterschool will be closed from December 26 (Mon.) to January 3 (Tue.)

Long Course
10:00am - 4:00pm (CGK students 11,000 yen (Including Tax)、Regular Students 12,100 yen (Including Tax))
*Only the long course is available as it is a full-day field trip. Fees include entrance fee, bus fee, etc.
*For CGK students, afternoon lesson will be available on the same days as their regular days, so students can stay until 7pm at no extra charge after 4pm.

Extended Care
From 9am to 10am or from 9:30am to 10am

Extended Care Fee
550 yen/30 minutes (Including Tax)

Location
CGK International School - Kannai Campus
(8F, 252 Yamashitacho, Naka-ku, Yokohama)

Phone
045-211-4427

What to Bring
Backpack, Lunch, Water bottle, Mask


Age
1st to 5th grade students
*Required to have experience of English learning.
*Please contact us about 6th grade students.
*In order to maintain an English-only environment, we do not have a Japanese instructor as the main instructor.

Limit Number of Students a Day
Around 30 Students for Long Course

How to Apply
Please fill out the form below
*Please note that afterschool will be closed from December 26 (Mon.) to January 3 (Tue.) and will not be available to contact.
Main activity
【Jan. 4th (Wed)】
Miraikan (The National Museum of Emerging Science and Innovation)

【Jan. 5th (Thu)】
Shonan Asobimare
*We will meet at 9:00 a.m. at the JR North ticket gate of Yokohama Station. No extended care fee will be charged.
*Please prepare in advance for the train fare from JR Yokohama to JR Hiratsuka and from JR Hiratsuka to JR Kannai.
*Please pick up your child at the afterschool.

【Jan. 6th (Fri)】
Zoorasia
*In case of rain, Hamagin Space Science Center
*Click to enlarge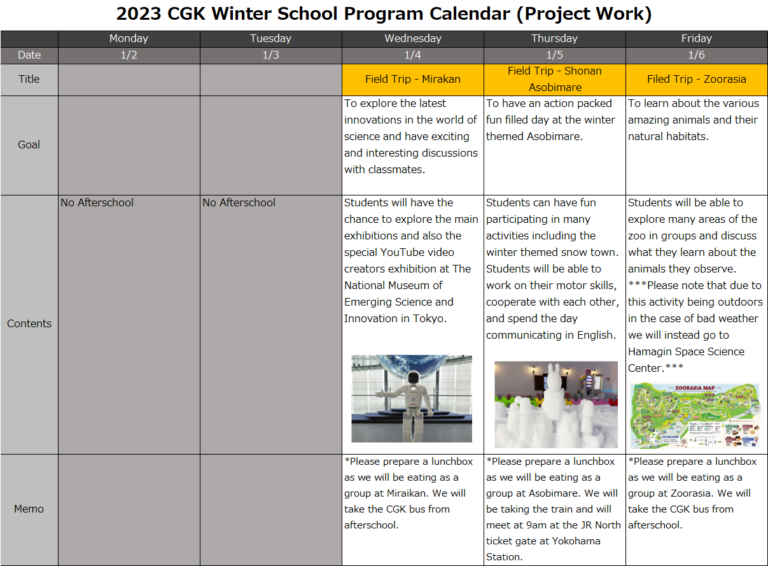 Invite your friends and join us!
If you have any questions or concerns, please feel free to contact us.
We look forward to your participation.
Apply for Winter School
Before Submission
Please fill out the form below and send it to us. We will get back to you within three business days.
The information you have registered will be managed properly and will not be provided or disclosed to any third party without your consent. Please read our Privacy Policy before sending your information.
Please note that it may take some time for us to reply depending on the content of your inquiry. Thank you for your understanding.
The fields marked

*Required

are mandatory. If you do not fill them in, you will not be able to submit the form. All fields other than

*Required

are optional.
Telephone Inquiries
Tel. 045-211-4427
Telephone Reception Hours: 10:30am-6:30pm
Contact
Afterschool Inquiry

Feel free to contact us, not only regarding applications for briefing sessions or other questions, but also about observations, interviews, community interaction proposals, partnerships, consultancy requests, internships, etc.

Afterschool Admission Application

Application period and availability may change periodically, please feel free to apply first.