Awareness of LGBTQ+ and Diversity (Guest: Mr. Jun)
The 5-year-old Sky class at CGK Preschool, which has been talking about "Difference" with background themes; the SDGs Goal 5 "Gender Equality" and Goal 10 "Reduced Inequalities", invited Jun, a transgender person who works as a nanny, as a guest to summarize their learning about "Difference" and to give them a special lesson on understanding LGBTQ+ and diversity through the easy-to-understand concept of "Difference" for children. The month of June, when this lesson was held, is known as Pride Month, and activities and events to raise awareness of LGBTQ+ rights are being held in the U.S. and around the world.
Jun talked to the children about his gender identity and acceptance. This is a big topic to talk about, let alone with our class of five and six-year-olds. But we asked the children a driving question: what would you do if someone close to you felt different and wanted to express that?"
Before this special lesson, the children had been looking at how we are all different and the acceptance of these differences. A key point that the children  discussed was "I like this even though I am a boy/girl." Many things such as toys and clothes can be restricted by their gender labels. But children and their interests should not be restricted by such labels. How we feel and what we are interested in makes us different. We want all differences to be respected and accepted.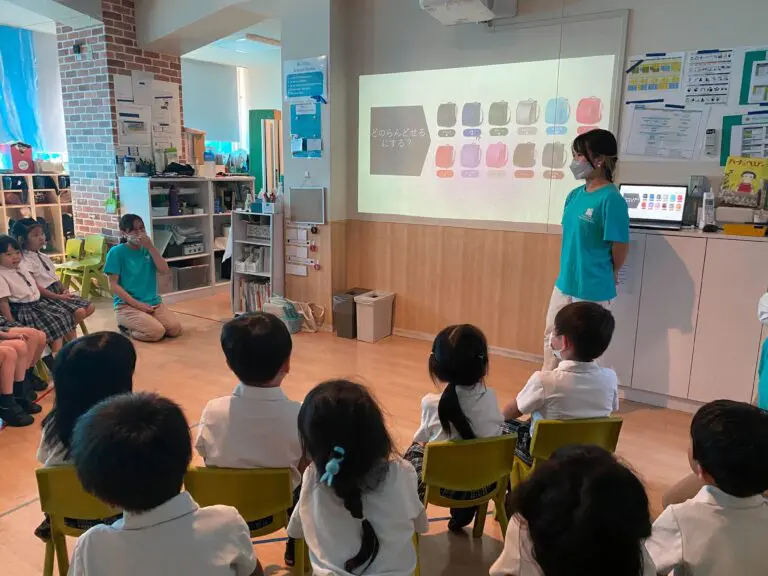 Having Jun share his story is an effective way for the children to see how important acceptance is. We hope that the children can grow to be people who are respectful and accepting of differences.
Mr. Jun
Jun Kawai is a certified nursery teacher and was born in Tokyo in 1984. He is also transgender and is open about his gender identity. He is involved in organizing playgrounds and places where families can socialize and meet new people. He also manages a babysitting organization called Nekotoyagi. His motto is "Creating opportunity for a new world that you've never seen"; he wants children to embrace their curiosity and encourages them to express themselves outside the box.
In December 2020, Jun created an original series of "ugly cute" characters, described by many as being lovable and appealing. As well, he has created Henteko Land (Silly Land), a world populated by half-animal and human characters who love going on adventures. Many children, especially those who don't like to draw, hesitate to draw freely because of the misconception that all drawing has to be good. Jun's goal is to show that drawing isn't about being good and he hopes that people can imagine countless stories just from looking at one drawing.
Jun dreams to lead a life where he has a lasting positive effect on the children that he meets.
Author Profile
Nahoko - Preschool Teacher (Japan)

Preschool homeroom teacher for 4-year-old class at CGK International School.
After working at a Japanese preschool, went to Vancouver, Canada to study abroad, and worked in a local childcare facility there.