Beach Cleanup Event Report
On Sunday, October 29 CGK International School had its very first beach cleanup event. (Click here for an event information.)
On the morning of the day, the weather wasn't ideal. But many people were not fazed by it and nearly 70 people came to Katase Higashihama Beach to make a difference. Those who came included CGK students and their families but there were also volunteers from outside the CGK school family.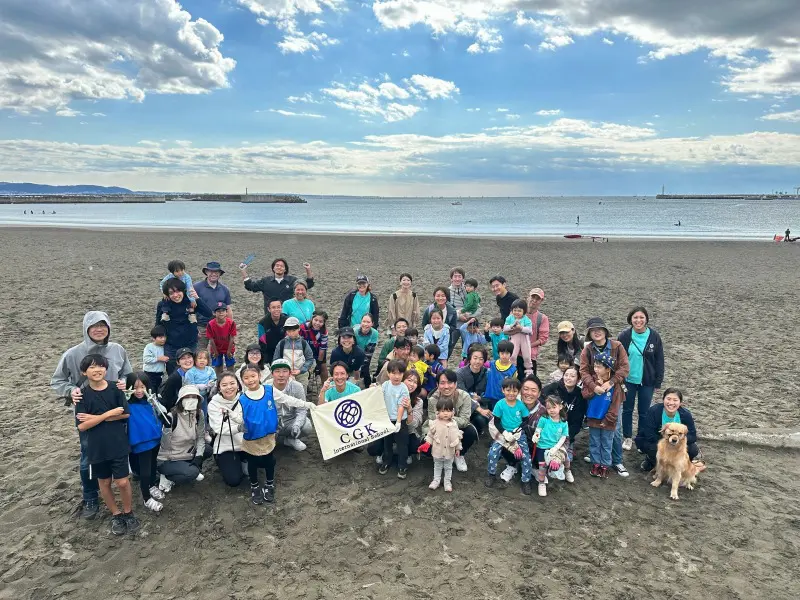 At CGK we emphasize learning through hands-on activities that takes the students out of the classroom. The beach cleanup was a great opportunity for the children and their families to have a new and unique learning experience outside of the school.
As part of the Sharing the Planet UOI, Mountain (4-year-old) and Sky (5-year-old) classes participated in a workshop which highlighted the plight of microplastics in our ocean. This workshop was held by the Kanagawa Coastal Beautification Foundation and it follows the SDG target concerning ocean and marine life. In the workshop, the children made kaleidoscopes using plastic recovered from the ocean. Even though the plastics looked pretty in the kaleidoscope, from their UOI, the children knew that the same plastic is a serious threat to marine life since they often mistake plastics for food.
At the beach cleanup, the children were able to connect their prior knowledge of microplastics in a new learning environment. Unfortunately, there was a lot of microplastic on the beach. But since the children were motivated by what they had learnt in their UOI, they worked hard to collect as much microplastic as they could. When asked how do turtles and fish feel now that the ocean is a little cleaner, a Mountain student answered, "I think they are crying because they are so happy."
At the end of the event, some children presented in front of everyone what they had found during the cleanup. Some had found treasures such as shells and special stones. Others showed us the trash such as the "dangerous spiky trash" during the cleanup. The beach cleanup was hard work but it was also fun and productive experience for everyone.
Author Profile
Hisae - Preschool Vice Principal & Lead Teacher - Age 4&5 (Japan)

Preschool vice principal & lead teacher - age 4&5 at CGK International School.
After 4 years of studying early childhood education and psychology at university, worked as a nursery teacher for 3 years, and then studied abroad in Canada. Lived in Tronto, Canada for a total of five years and worked as a homeroom teacher in a local daycare for two years.